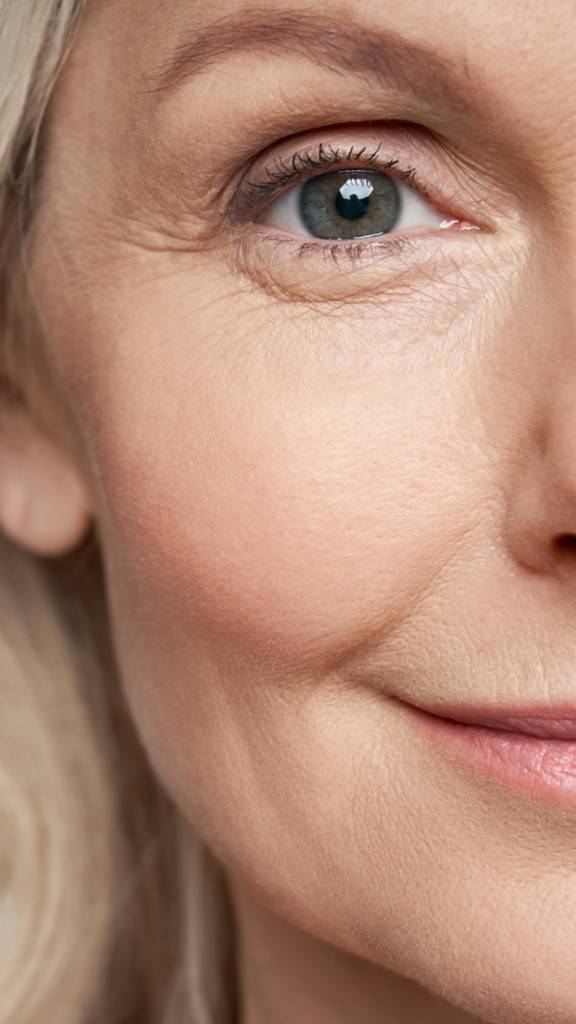 Blepharoplasty is a surgical procedure that aims to remove excess skin from the eye area.
It's reported that over 2700 people underwent a form of eyelid surgery in 2022, to correct the appearance of the eye area. It's an extremely common procedure and can help correct areas that someone might be unhappy with.
 Here at Victoria House Clinic we offer both upper and lower blepharoplasty surgeries. That means we can help correct areas around the eye you are unhappy with including: hooded eyes or under eye bags. Blepharoplasty is classed as a minor surgical procedure, meaning it can be done under local anaesthetic. 
Local anaesthetic is a form of medicine that will be applied to the area the doctor is treating to numb the area. Once the area is numbed you won't be able to feel any pain. The main benefit of surgical procedures that are carried out under local anaesthetic means that you will be awake for the procedure, avoiding the need to be medically put to sleep. This type of anaesthesia doesn't put the body under stress and your recovery time will be a lot quicker. 
Blepharoplasty is one of the many minor surgical procedures we offer here at Victoria House Clinic. Check out our minor surgery page to find out about all the areas of the body we can help with.

What is the difference between Upper and Lower Blepharoplasty?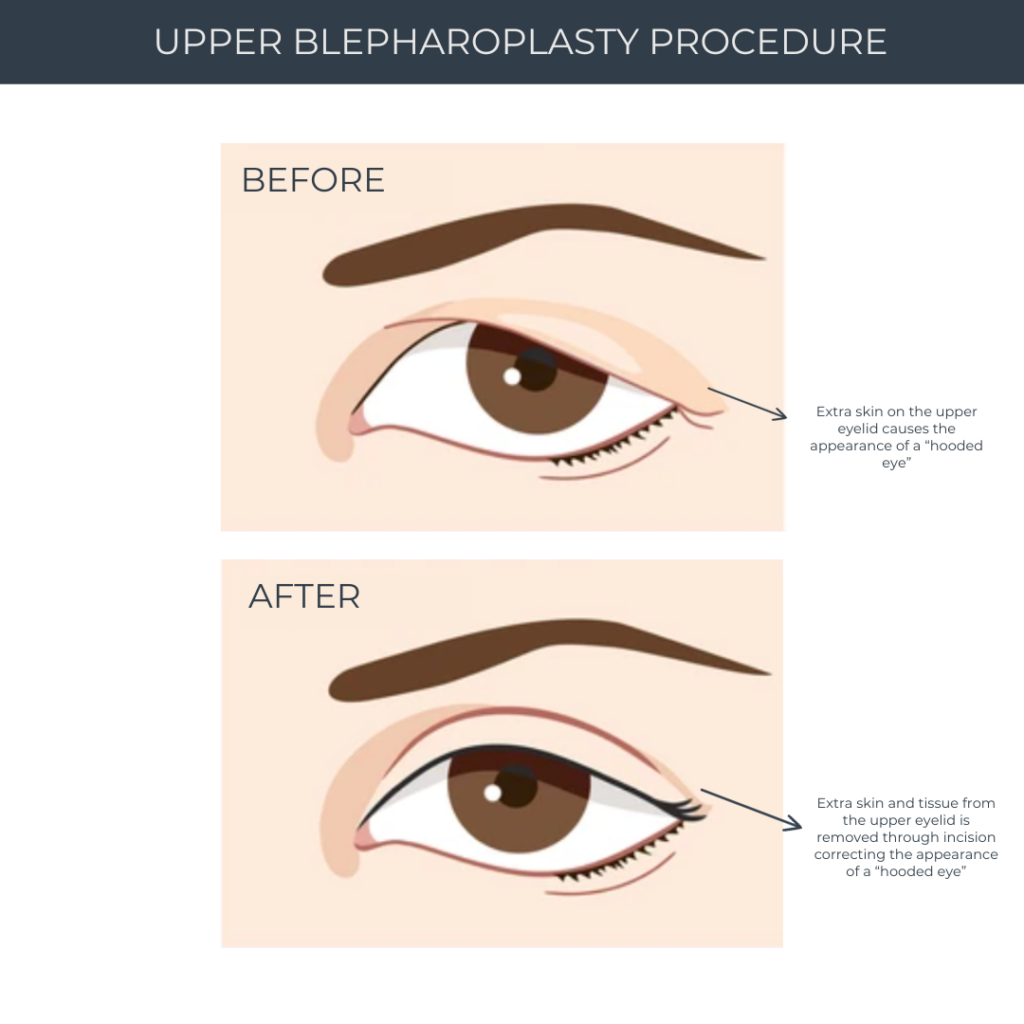 Upper Blepharoplasty is a surgical procedure that aims to target the upper eyelid area. This is a particularly common procedure for people unhappy with how their upper eyelid sits naturally. You could have hooded eyes, sagging or drooping skin and in some cases vision can even be impacted. 
To correct the upper eyelid the surgical procedure will involve the surgeon making a small incision along the crease of the upper eyelid, just above the lash line. The doctor will then begin to separate the skin from the tissue before repositioning and removing any fatty tissue and tightening the muscles.
The skin is then tightened around the area before the incision is closed back up. As the incision is made just above the lash line in many cases the small scar remaining will not be noticeable, however the scar will gradually begin to fade over time. 
Whereas Lower Blepharoplasty is a surgical procedure that aims to target the lower eyelid area, particularly under eye bags. It's particularly common amongst people that are unhappy with their under eye area and feel their under eye bags are large, prominent and have an excessive amount of sagging skin. 
Over time our under eye area can change through ageing and many have lower blepharoplasty to help correct the areas they have become unhappy with. Like upper blepharoplasty the surgical procedure involves the doctor making a small incision, however in this case it would be along the lower lash line. 
The doctor will then begin to remove any excess fat from your eye bag area and tighten the surrounding skin before closing the incision. Again as the incision will be made close to your lash line any scarring is typically not visible and will also fade over time.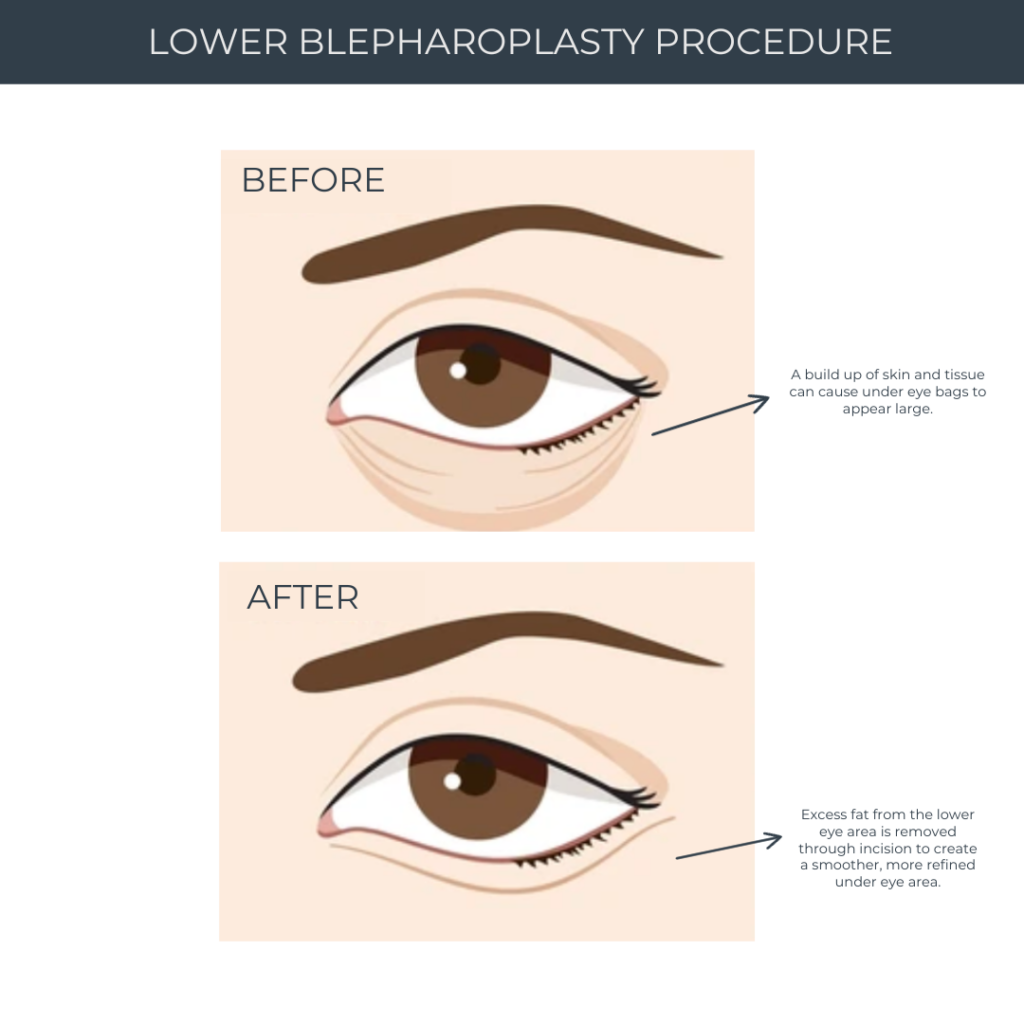 Blepharoplasty at Victoria House Clinic
We're delighted to offer both upper and lower blepharoplasty here at our state of the art clinic located in Sutton Coldfield, Birmingham. All of our blepharoplasty procedures will be carried out by our Medical Director; Dr George Filobbos who is an esteemed Consultant Plastic & Reconstructive Surgeon. Here at Victoria House Clinic we pride ourselves on the safety of our patients and staff, our registration with the CQC only highlights that we are a safe environment and authorised to offer all of the procedures we do.

If you have been thinking about having blepharoplasty for a while and would like to find out more about the procedure then let's get you booked in for a consultation with our doctor. During the consultation you will be able to talk through the areas you are unhappy with, ask questions & Dr George will share his medical advice and opinions with you to ensure this is the right procedure for you.

We're now taking bookings for blepharoplasty consultations, so if this treatment is of interest to you and you would like to find out more and meet our doctor please give a member of the team a call on 0121 289 5777 so they can assist and get you booked in.